The most-powerful seal test bench in the world
Dec. 11, 2013Alan Hitchcox | Hydraulics & Pneumatics
Advertisement
Installed in a specially constructed well, an 18-ton, 260‑kW floating-mount rod seal test bench is located at Trelleborg's research and development center in Stuttgart, Germany. The machine is capable of simulating the patterns of movements and stresses faced by hydraulic rod seals in some of the most-demanding rod-seal applications, such as aircraft landing gear, injection-molding machines, and mining excavators. Holger Jordan, manager of Fluid Power Technology, says, "Our substantial investment in this test rig lets us offer our customers a unique facility to prove seals against ever-increasing development requirements."
"The test bench is abo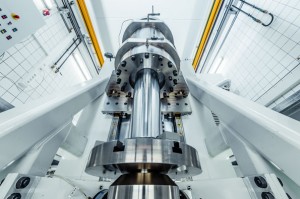 ut simulating the real world as closely as possible in the laboratory," adds Eric Seeling, the engineer responsible for its design. "The rig can perform long-term endurance and development tests, reproducing the effect on hydraulic rod seals of, for example, 25,000 landings of an aircraft or a million upstrokes on a press. In particular, it excels in aerospace applications where it can check parameters such as braking or lateral forces on landing gear and even simulate lifelike knocking caused by uneven runways."
More than 35 years of testing experience went into the design of the test bench. The entire bench was installed in a concrete well to isolate vibrations from the surrounding building. The drive unit was set up in a separate room provide heat for the building from energy that otherwise would've been lost through emissions.
The test bench is suitable for seals from 4 to 16 in. diameter and can test a complete sealing configuration in a single test construction, replicating the pressure between the primary and secondary seals realistically. Traveling at speeds of up to 3.3 fps or frequencies to 10 Hz, it can generate movements and pressure patterns in sinus waves, trapezoidal forms, and even freely modeled patterns.
One of the test bench's more novel features is a lateral force cylinder mounted at the bottom of the bench. Capable of exerting forces of up to 225 kN, it can place permanent radial loads on the seals or, depending on the stroke, exert dynamic loads. Another special feature is the ability to simulate different atmospheric temperatures between –76 and 194°F. Results can be fully documented, allowing customers to provide their clients with proof of performance related to prescribed parameters.